CLIENT
Silverstein Properties & 21st Century Fox / News Corp
SIZE M2/FT2
139,354 / 1,500,000
2 World Trade Center (2 WTC) is the capstone in the redevelopment of the World Trade Center and the final component of the revitalization of Lower Manhattan. Located at 200 Greenwich Street and bound by Church Street to the east, Vesey Street to the north and Fulton Street to the south, the tower will rise to approximately 1,340 ft, respectfully framing the 9/11 Memorial Park.
BIG's proposal was designed to serve as the new headquarters for 21st Century Fox and News Corp who were planning to move and  consolidate their companies and more than 5,000 people under one roof. The design concentrates the needs and requirements of the media company and other tenants into seven separate building volumes, each tailored to their unique activities, while simultaneously creating 38,000 sq ft of outdoor space.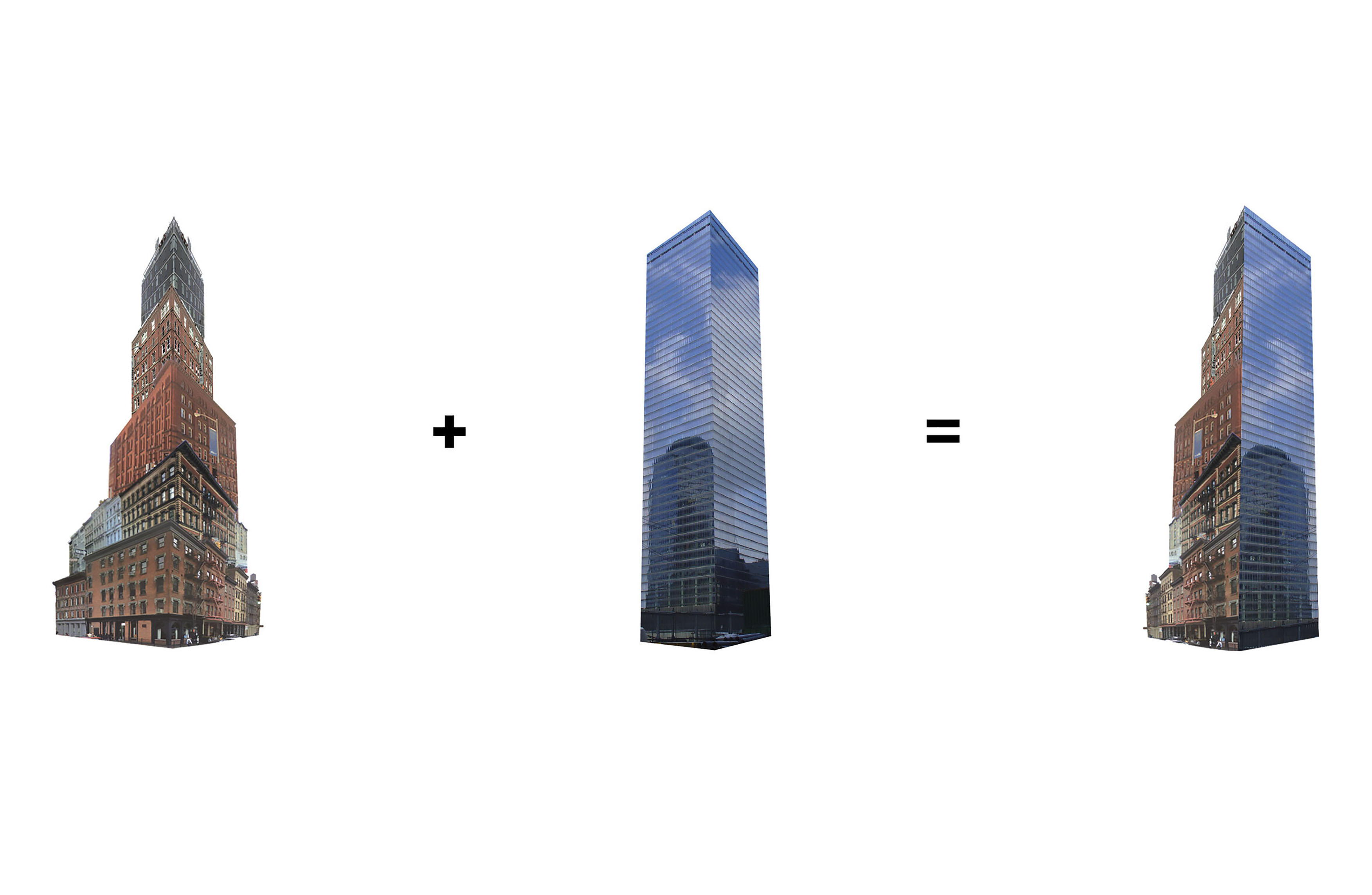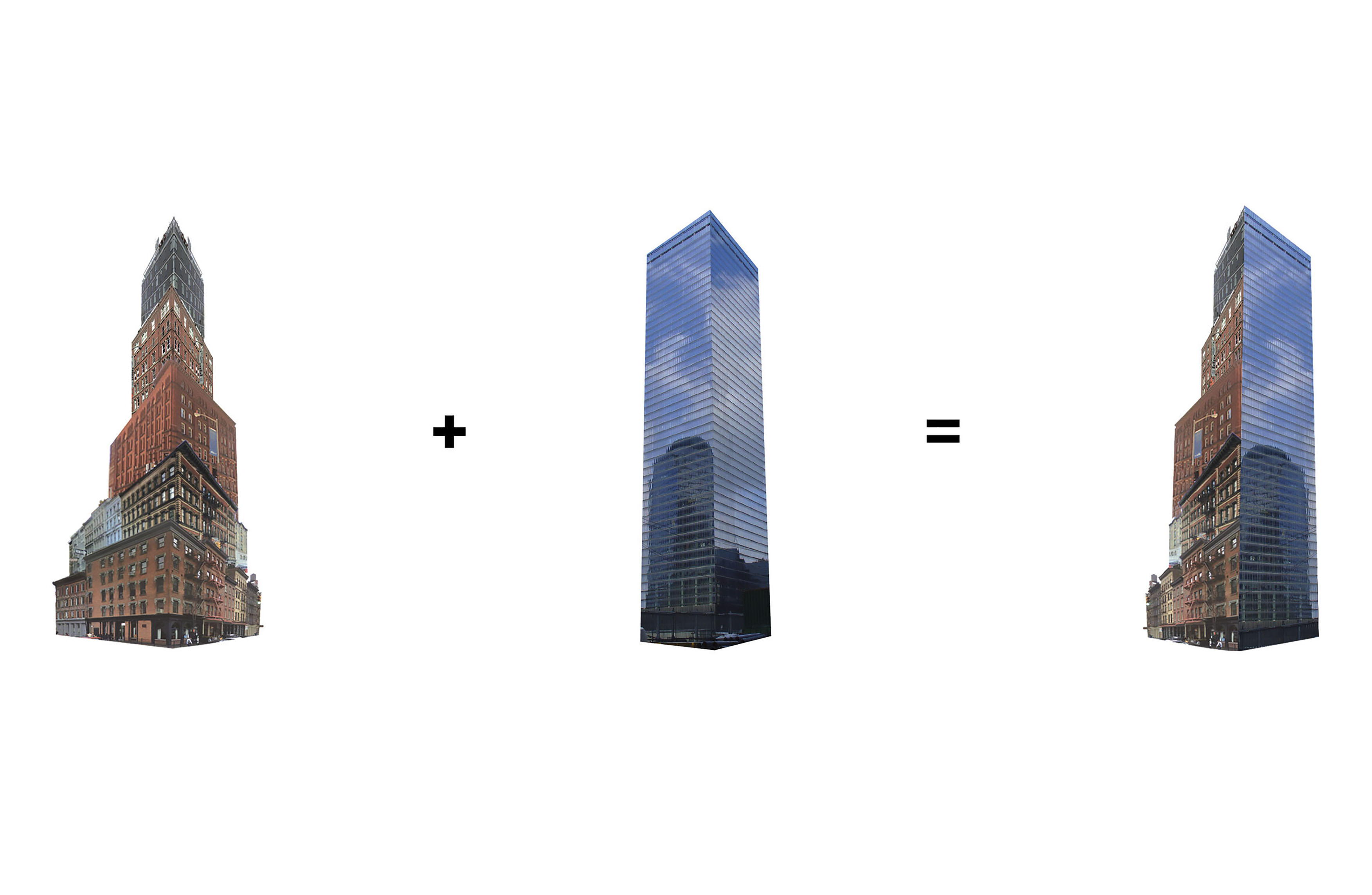 From the 9/11 Memorial, the building appears as a tall and slender tower just as its three neighboring towers, while the view from TriBeCa is of a series of stepped green terraces. The building is aligned along the axis of World Trade Center masterplanner Daniel Libeskind's 'Wedge of Light' plaza to preserve the views to St. Paul's Chapel from the Memorial park.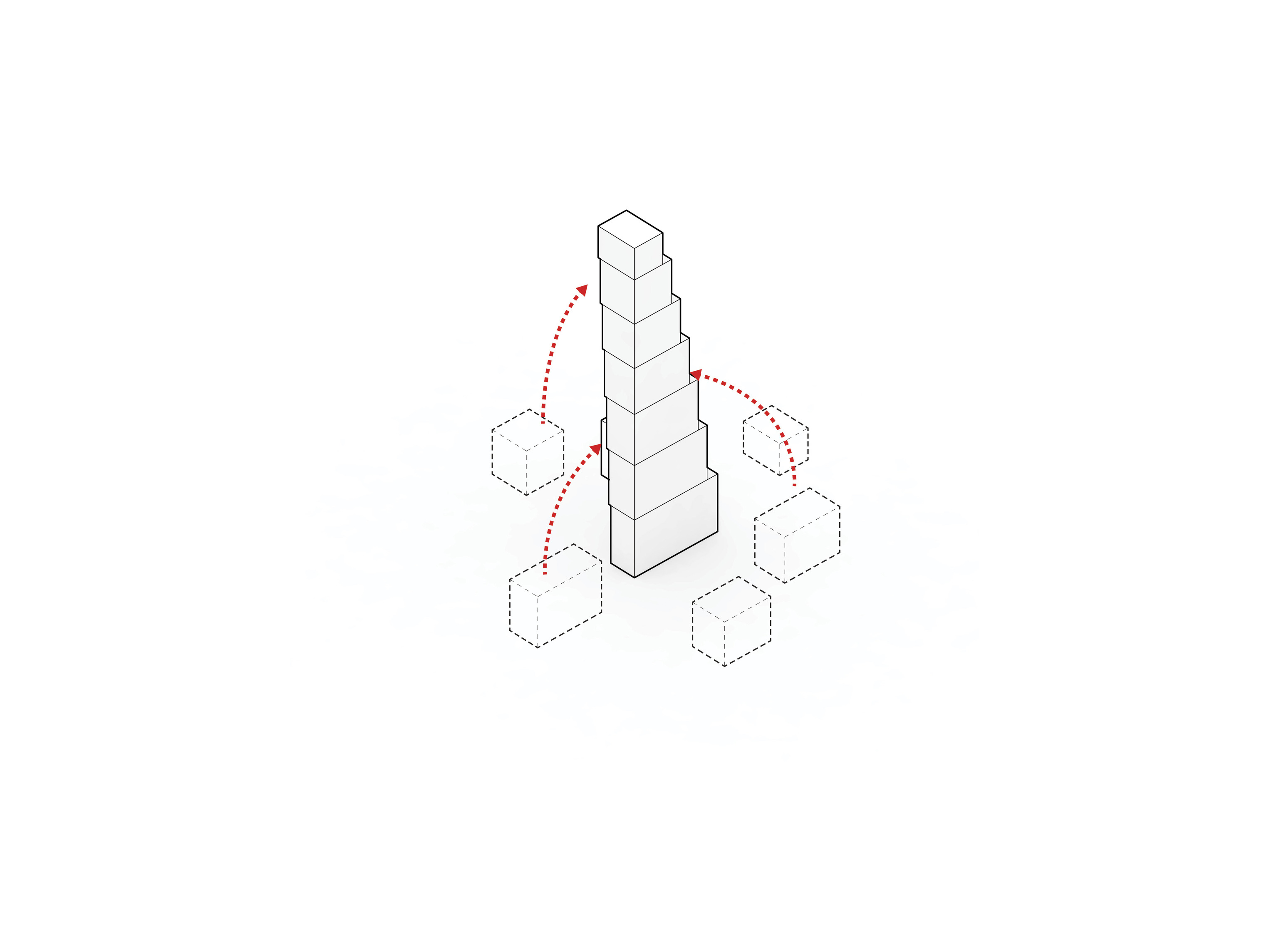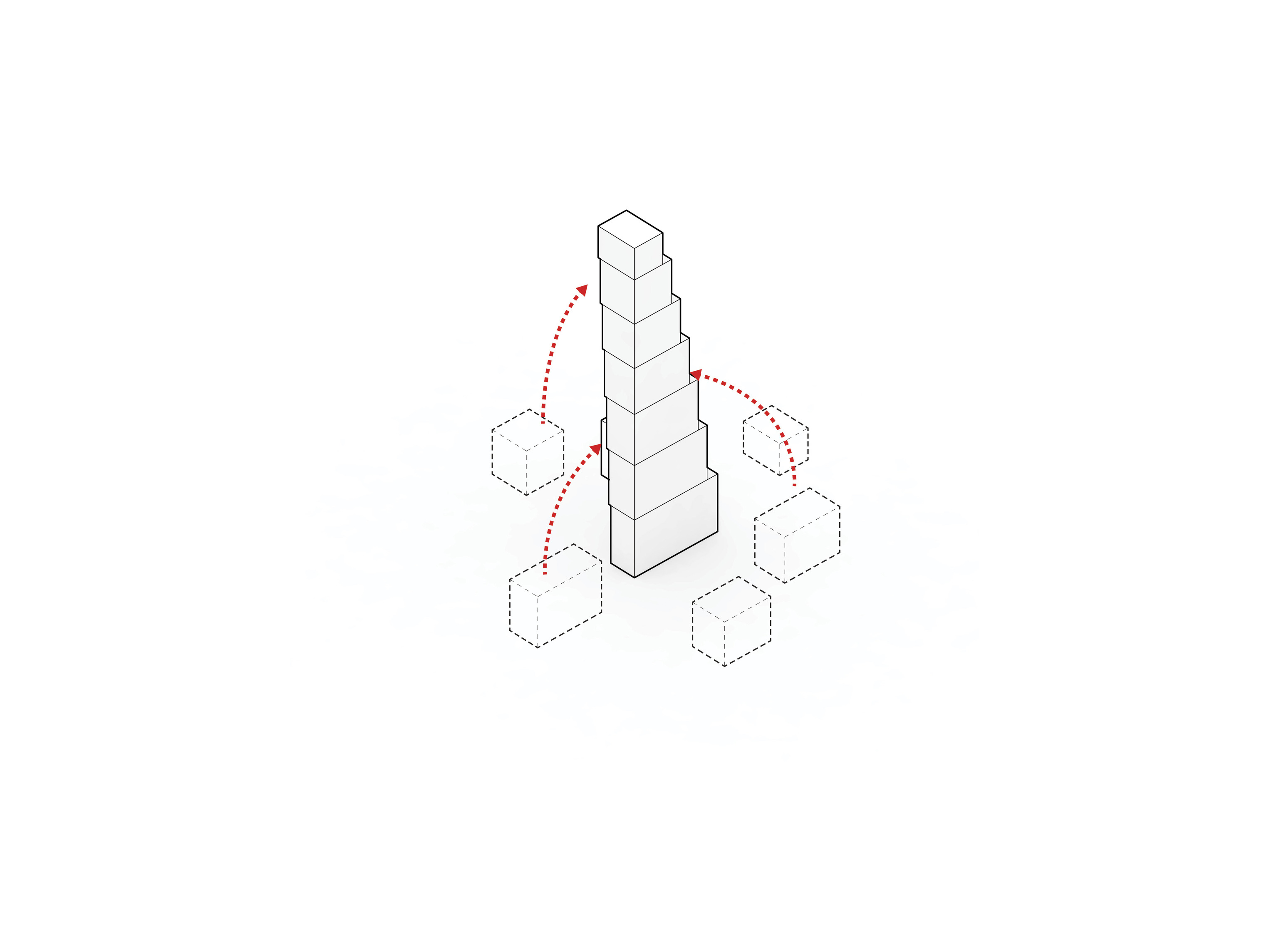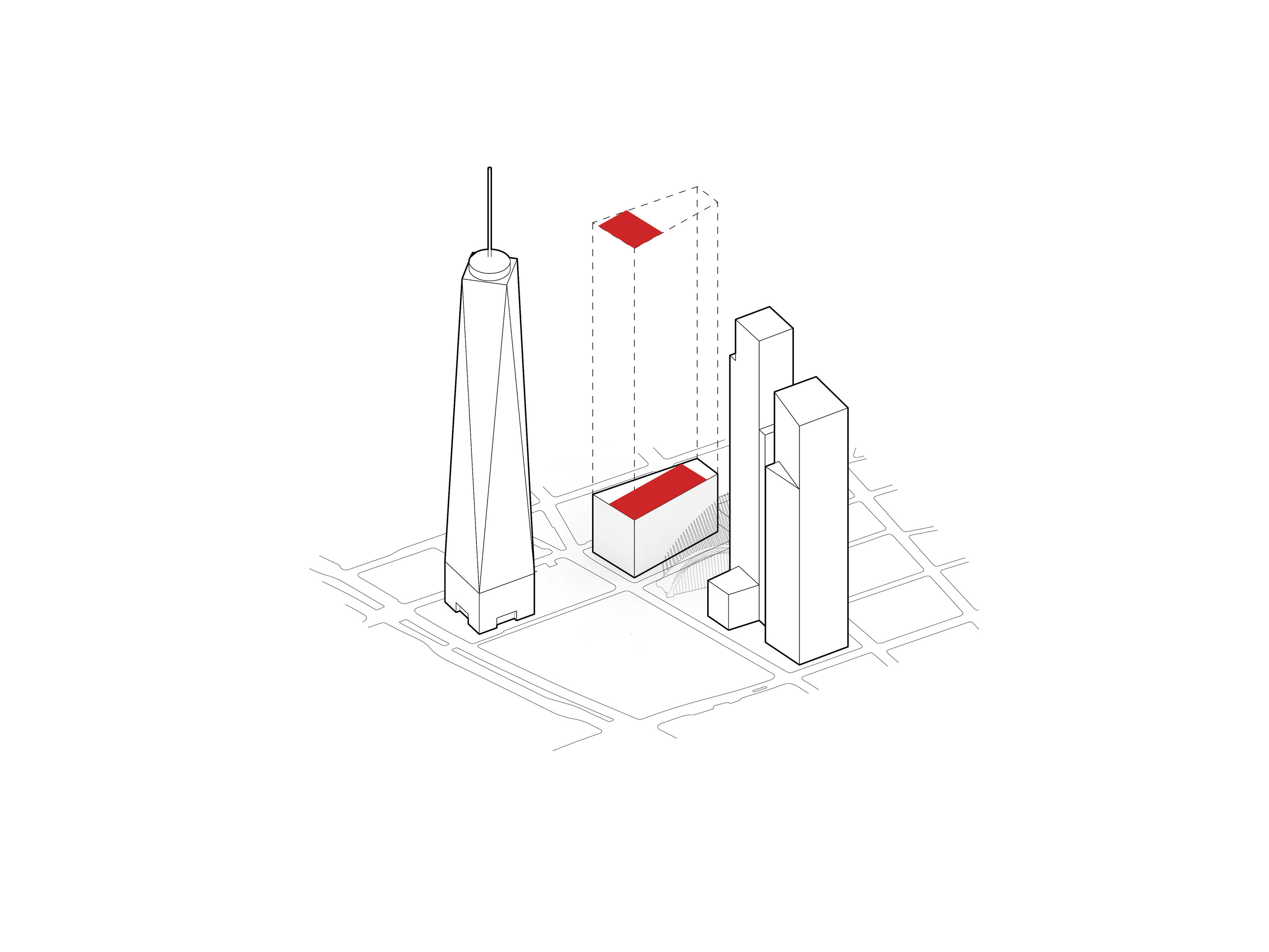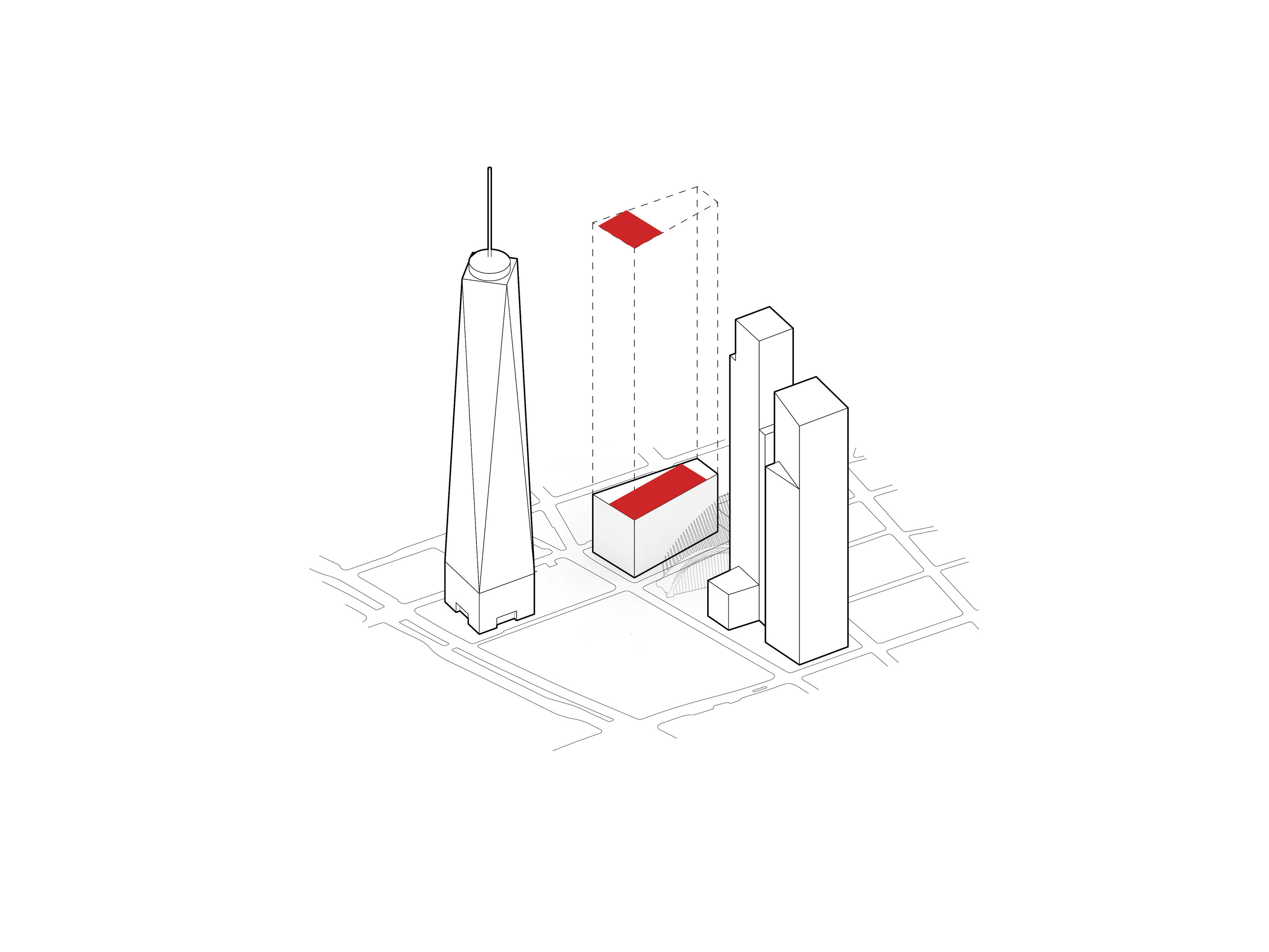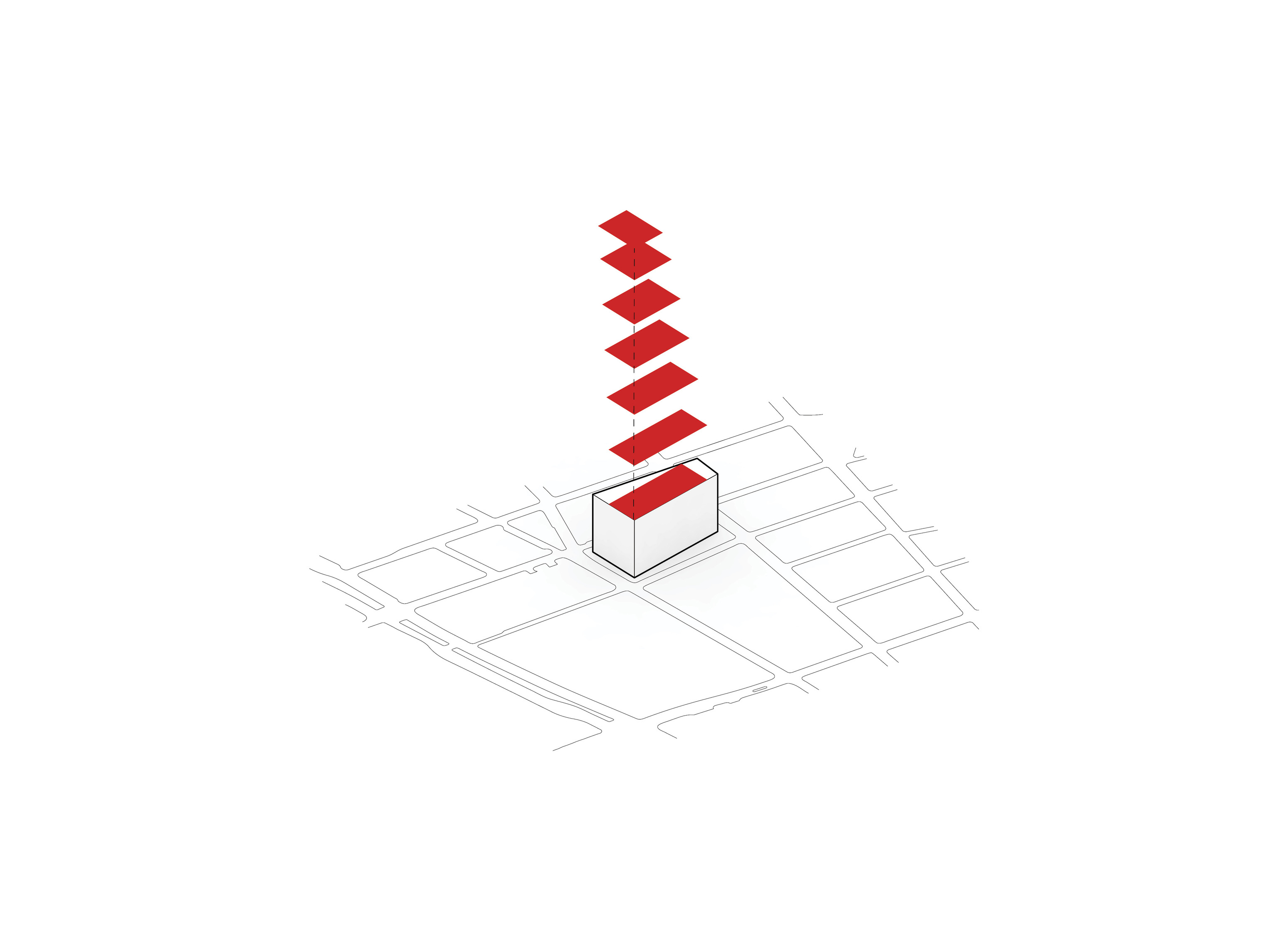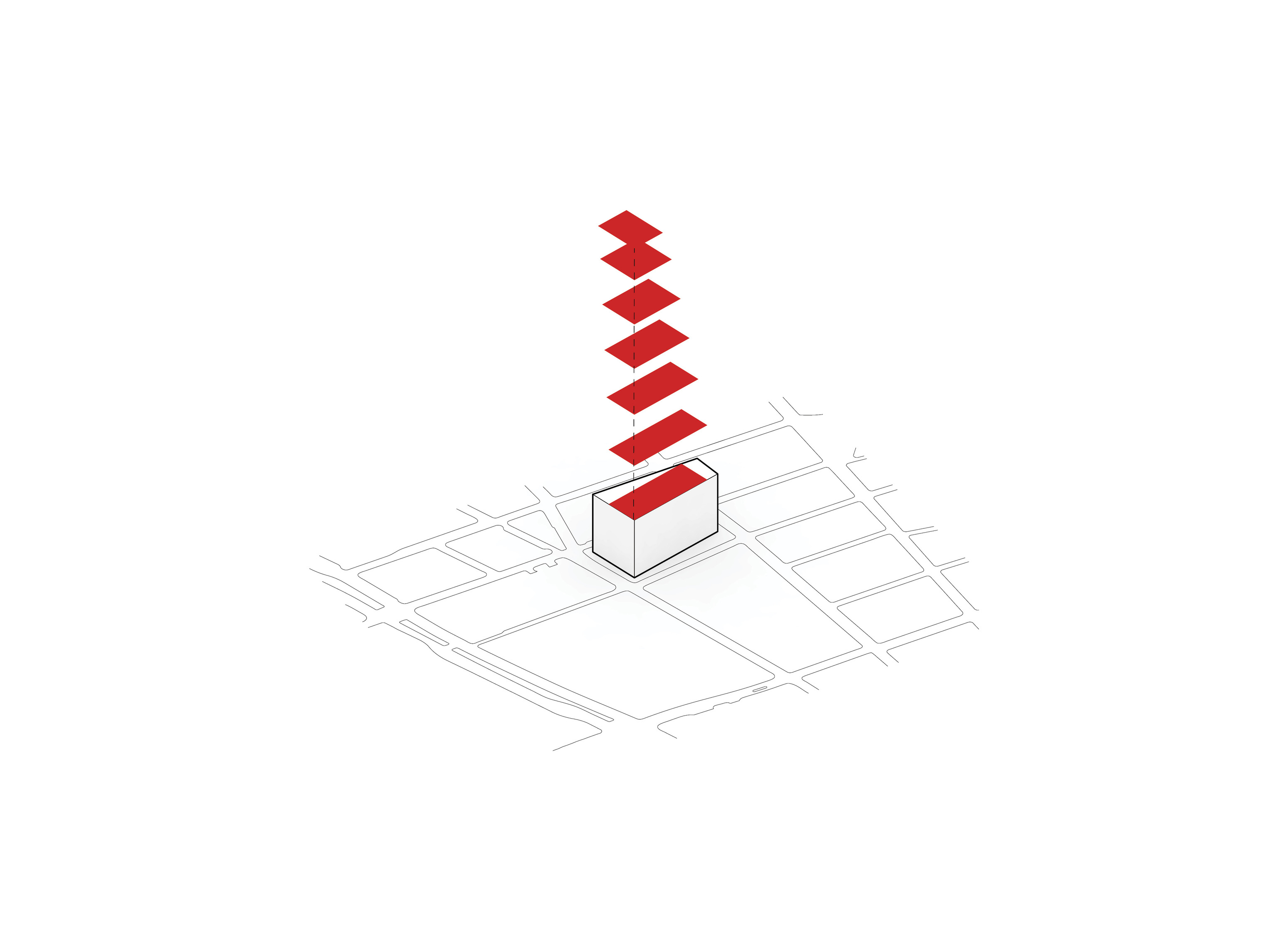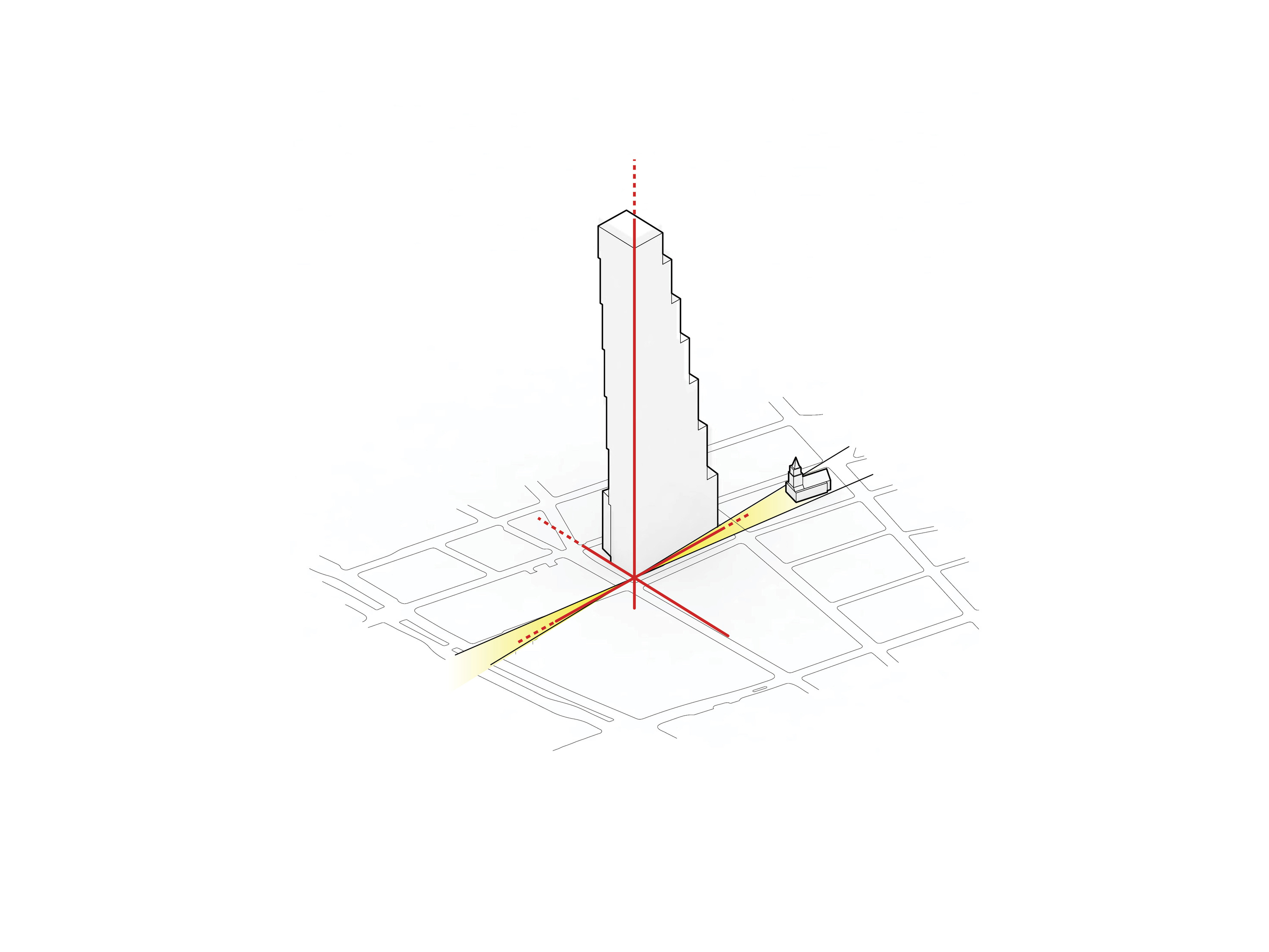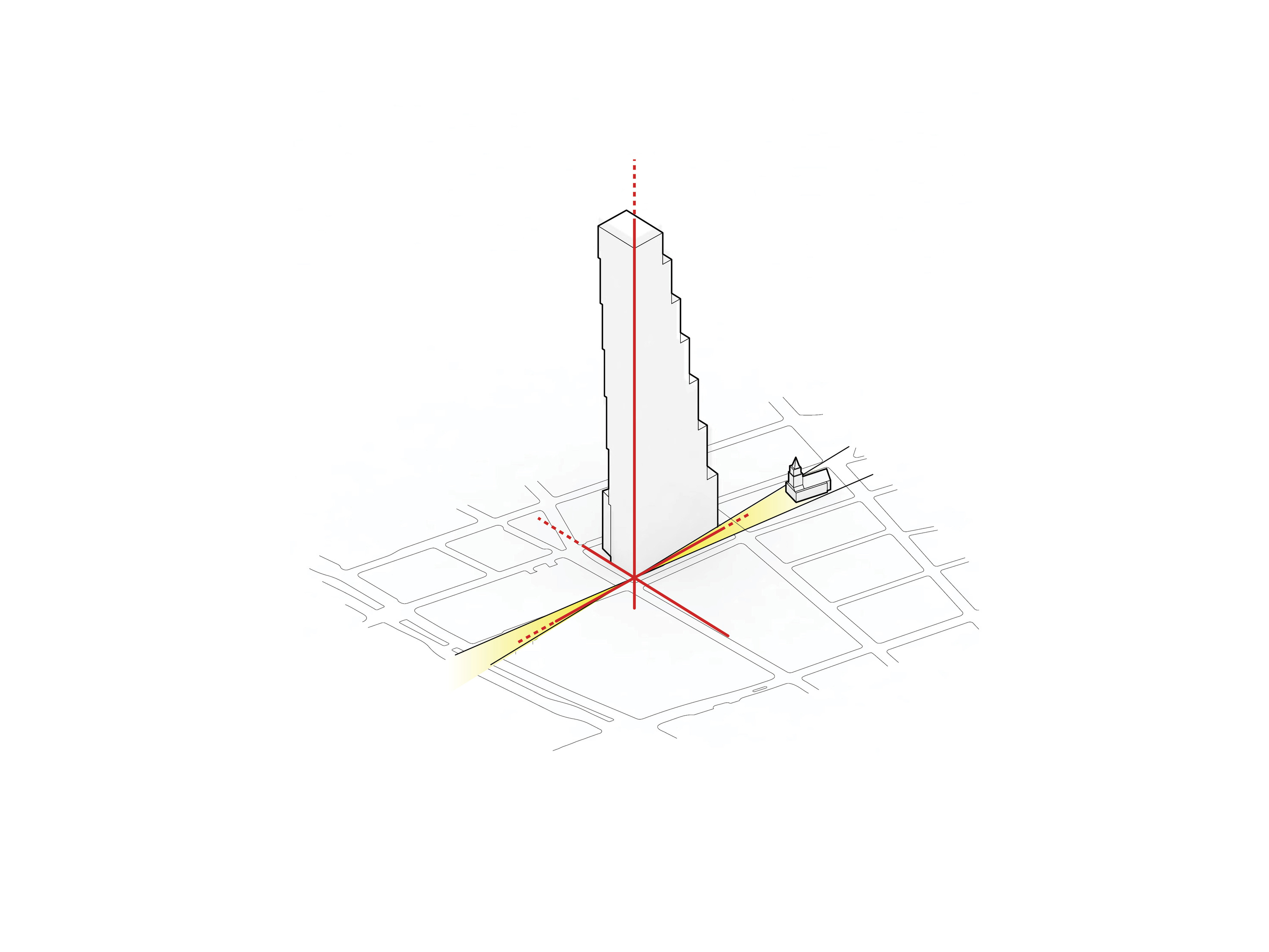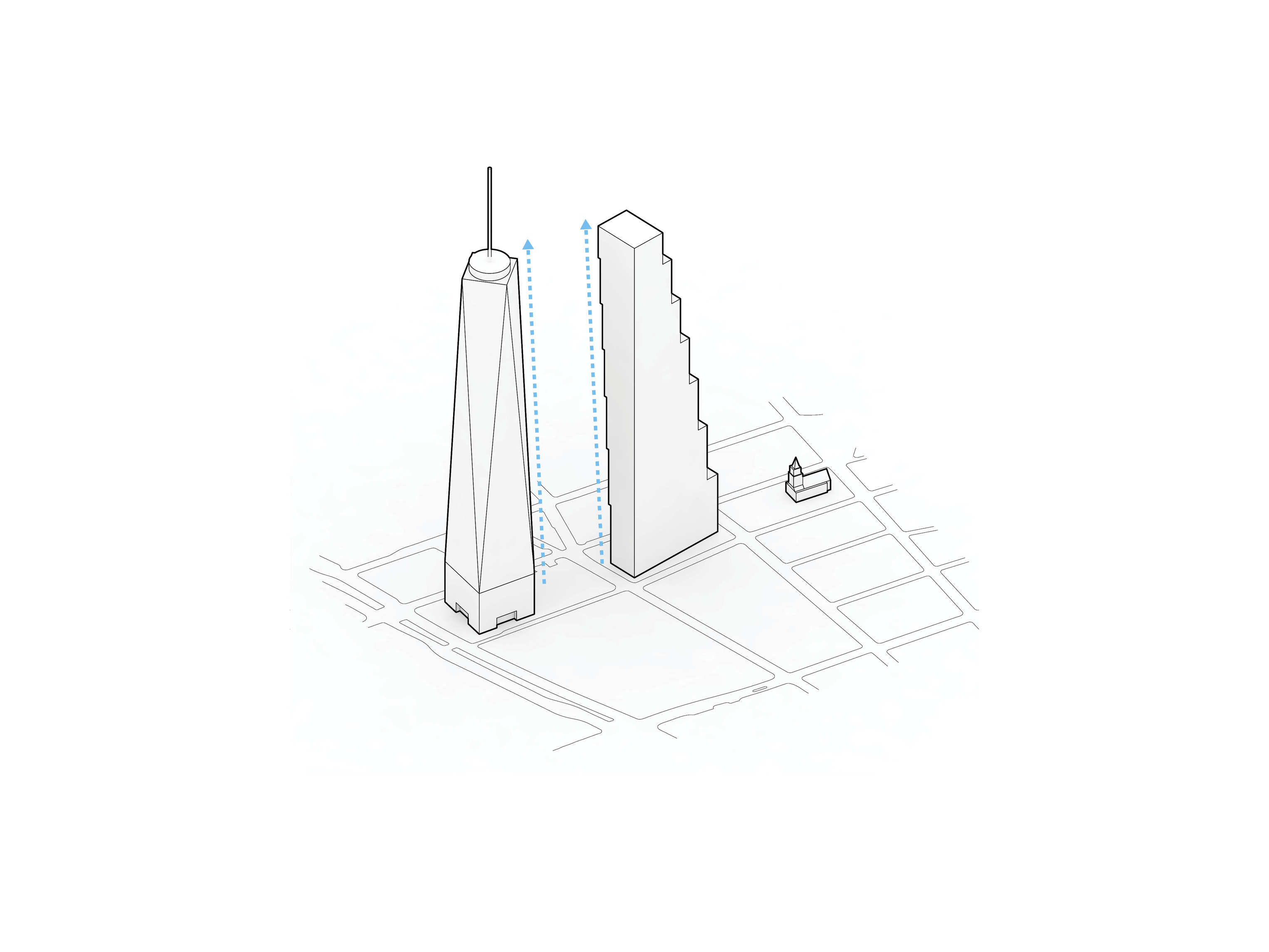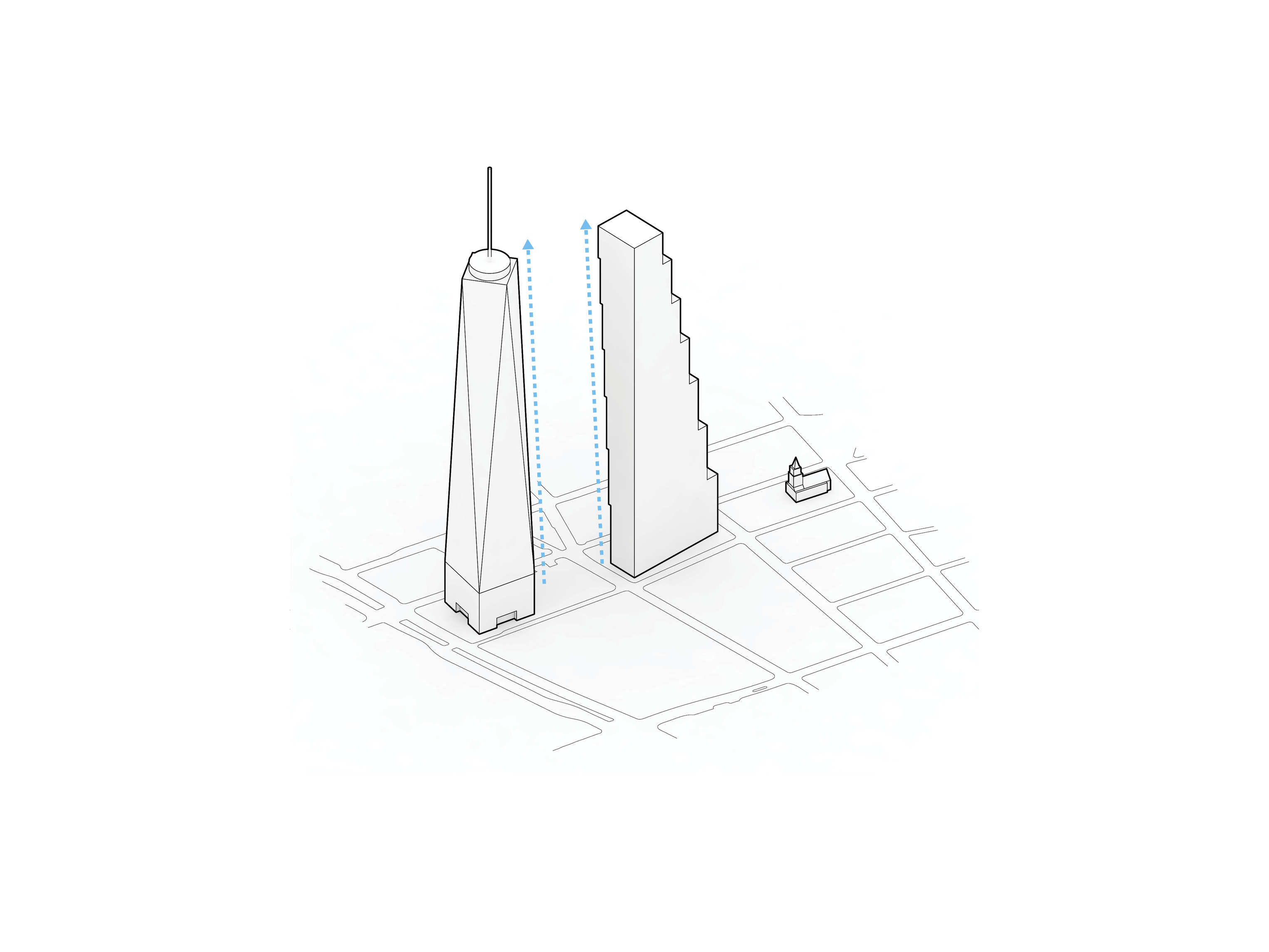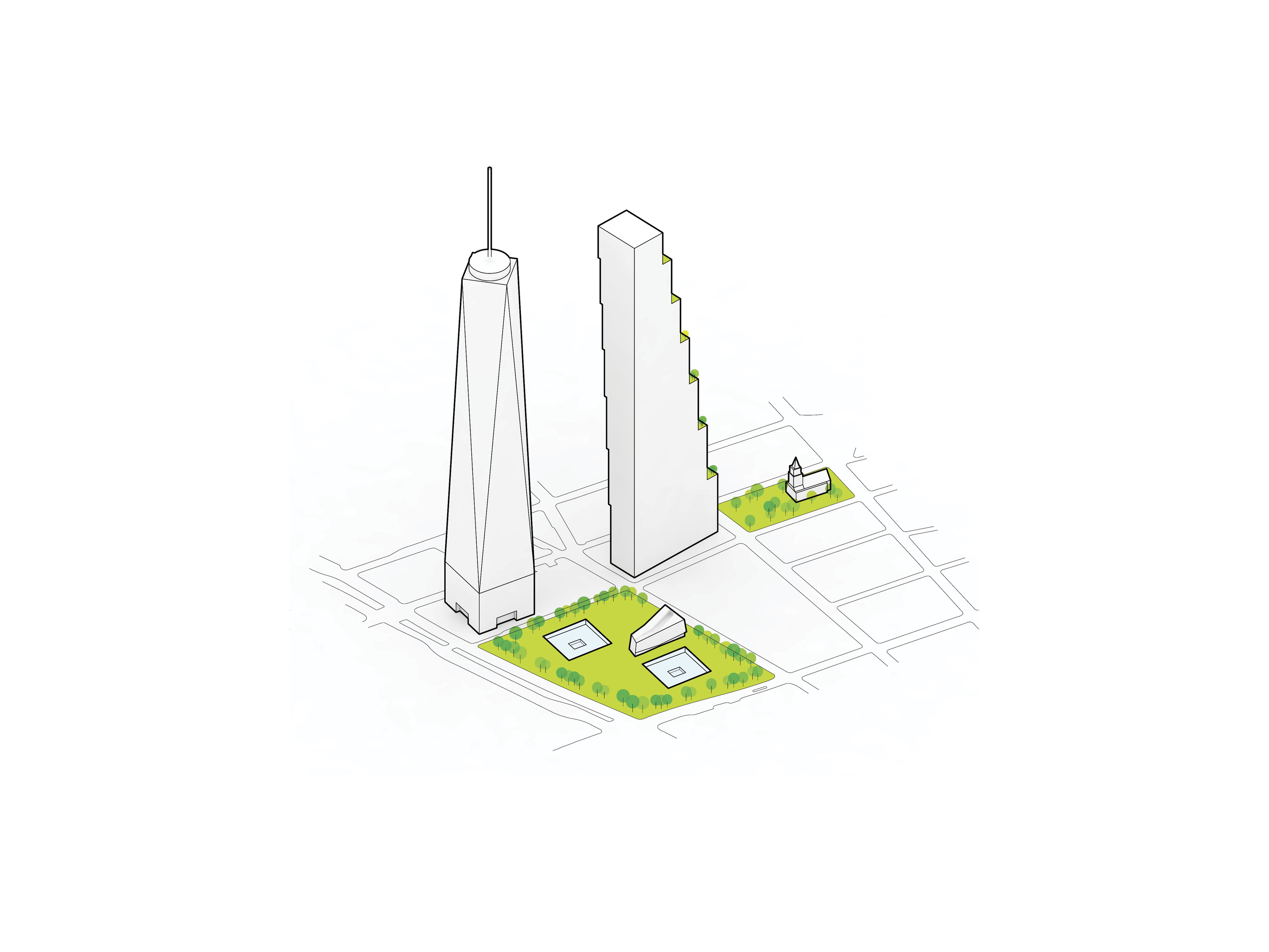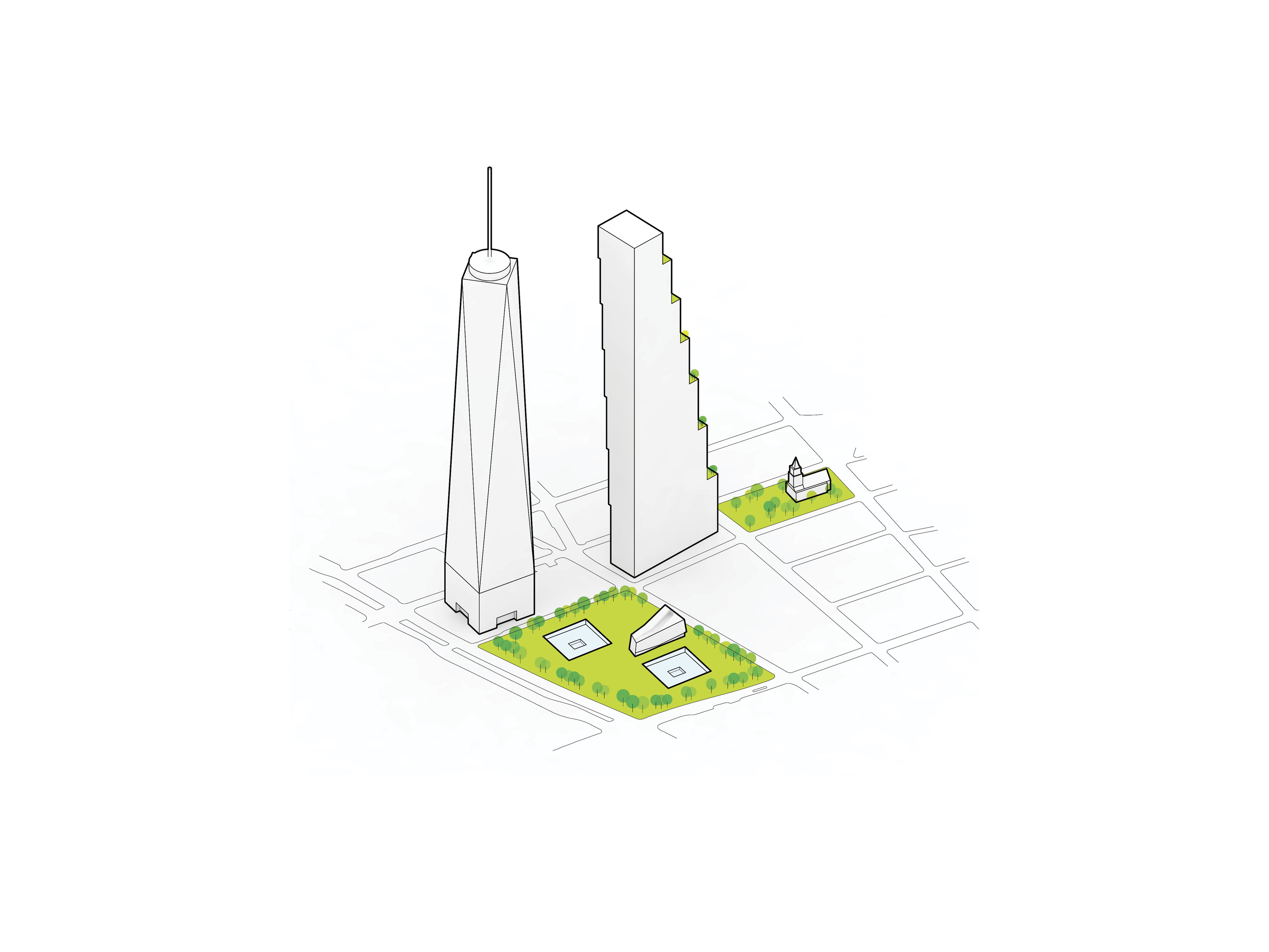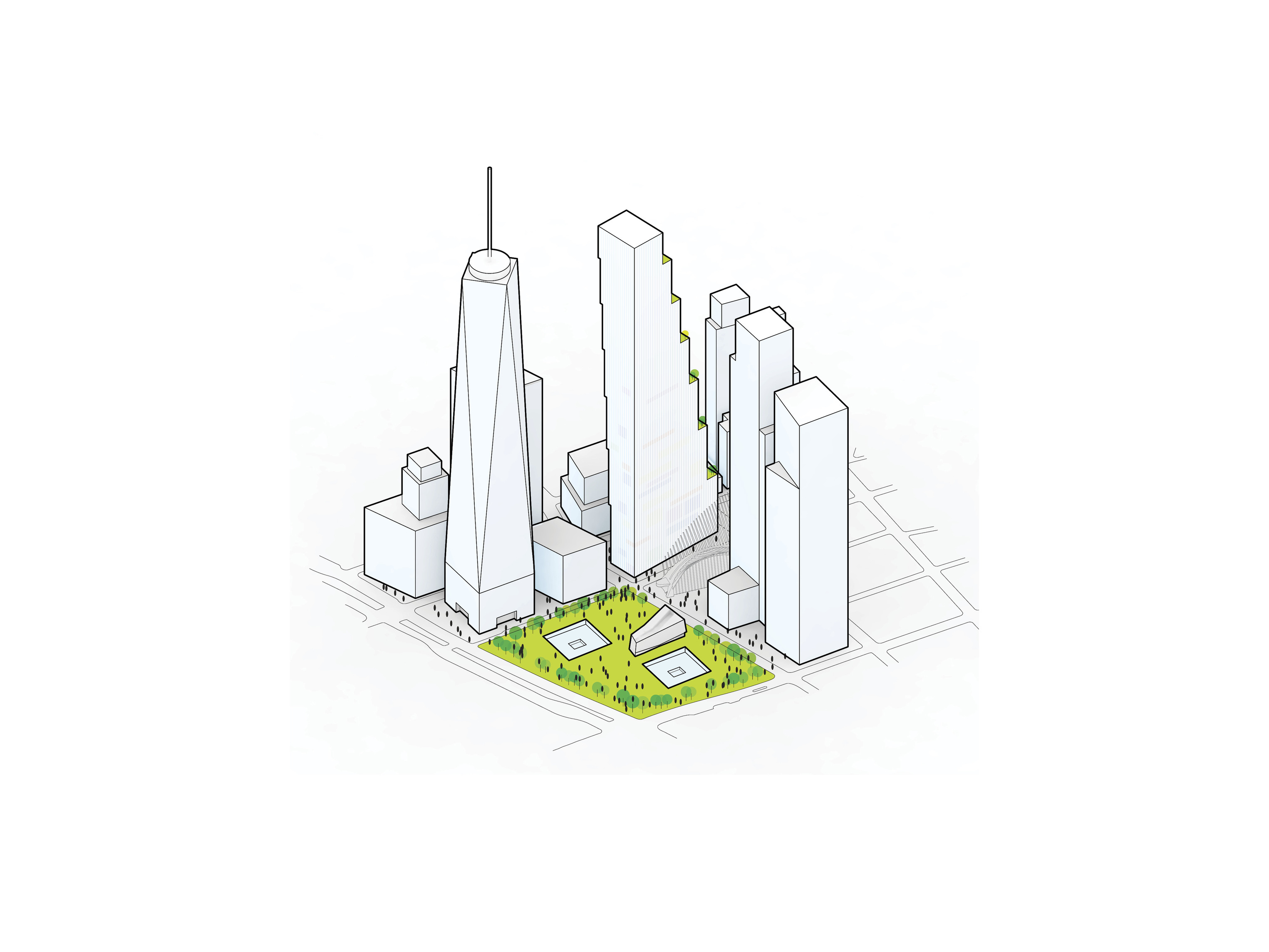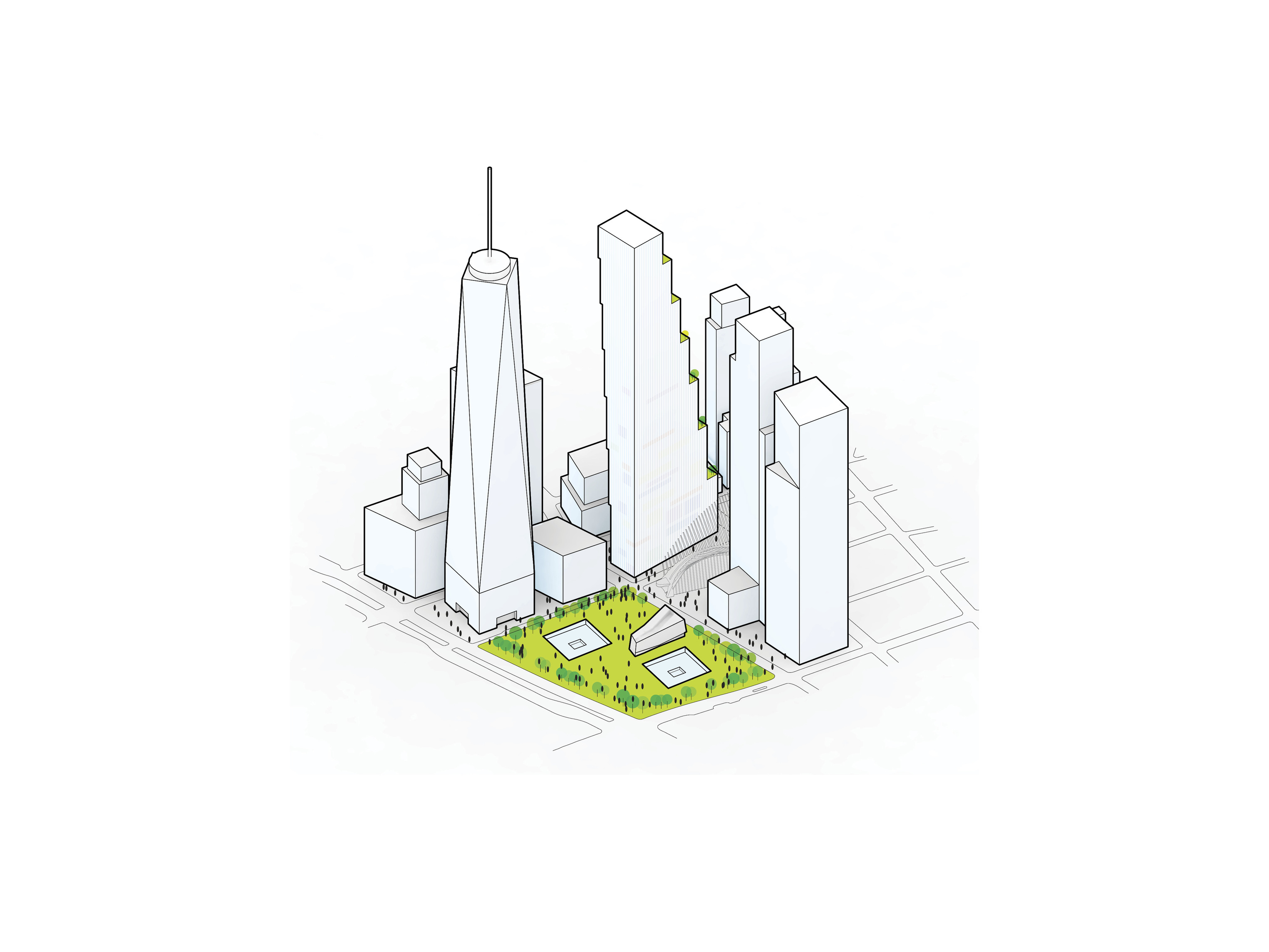 The volumes of varying sizes and depths are stacked on top of each other from the largest at the base to the smallest towards the top. The stacking creates large outdoor terraces full of lush greenery and unprecedented views of the surrounding cityscape, extending life and social interaction outdoors. The modernist skyscraper and the contemporary interpretation of the pre-modern setback merge in a new hybrid and an exciting addition to the NYC skyline.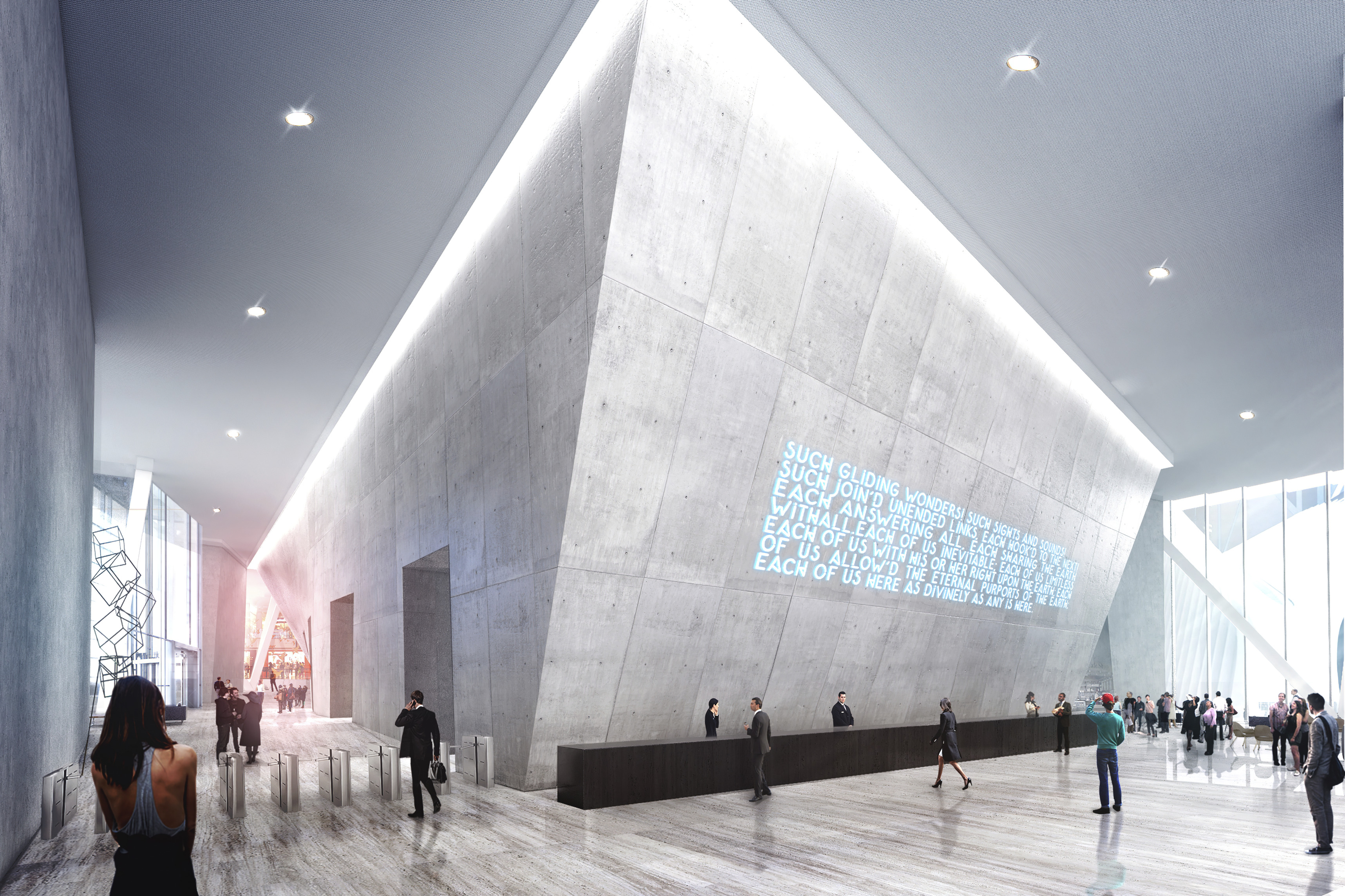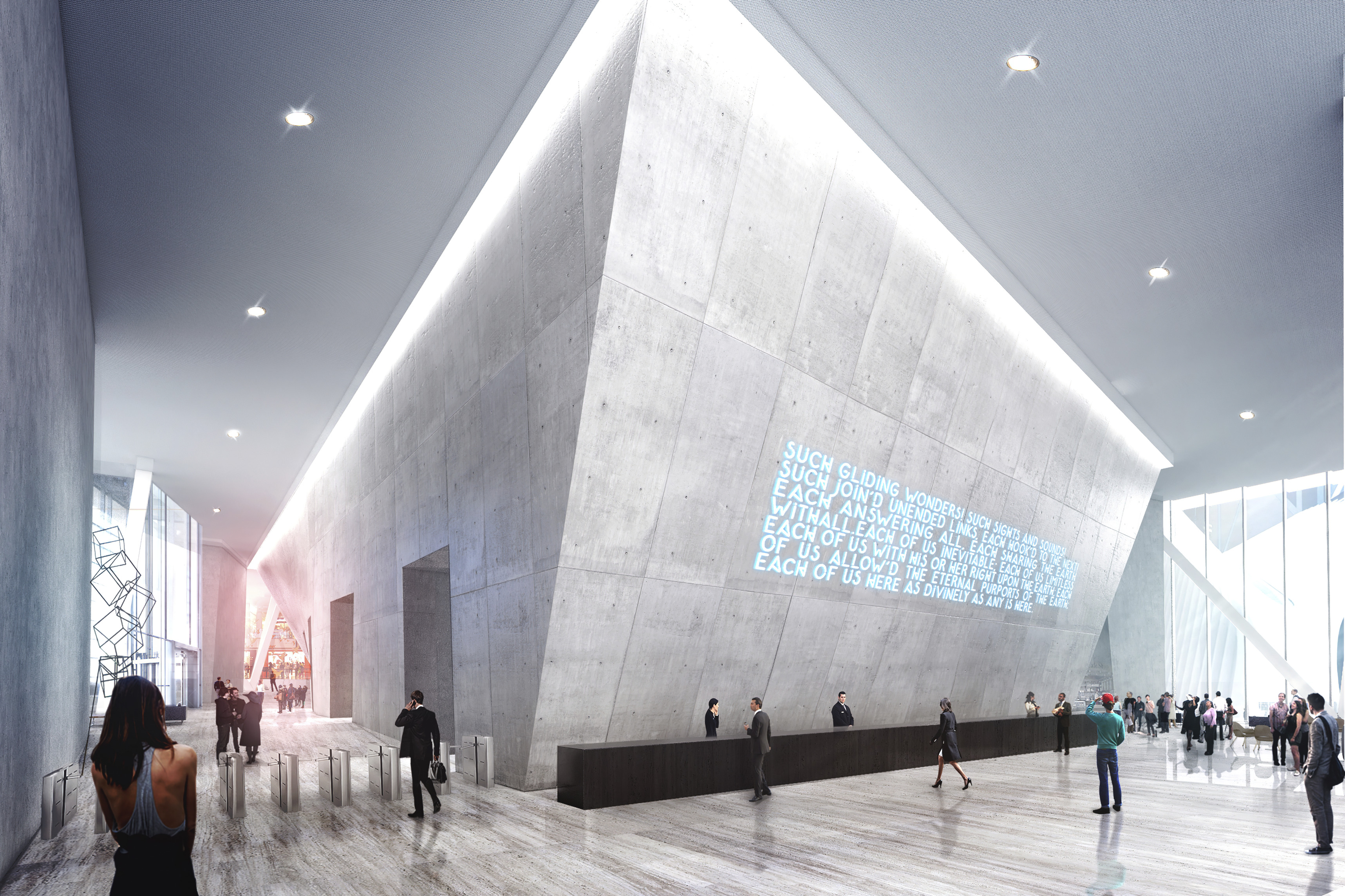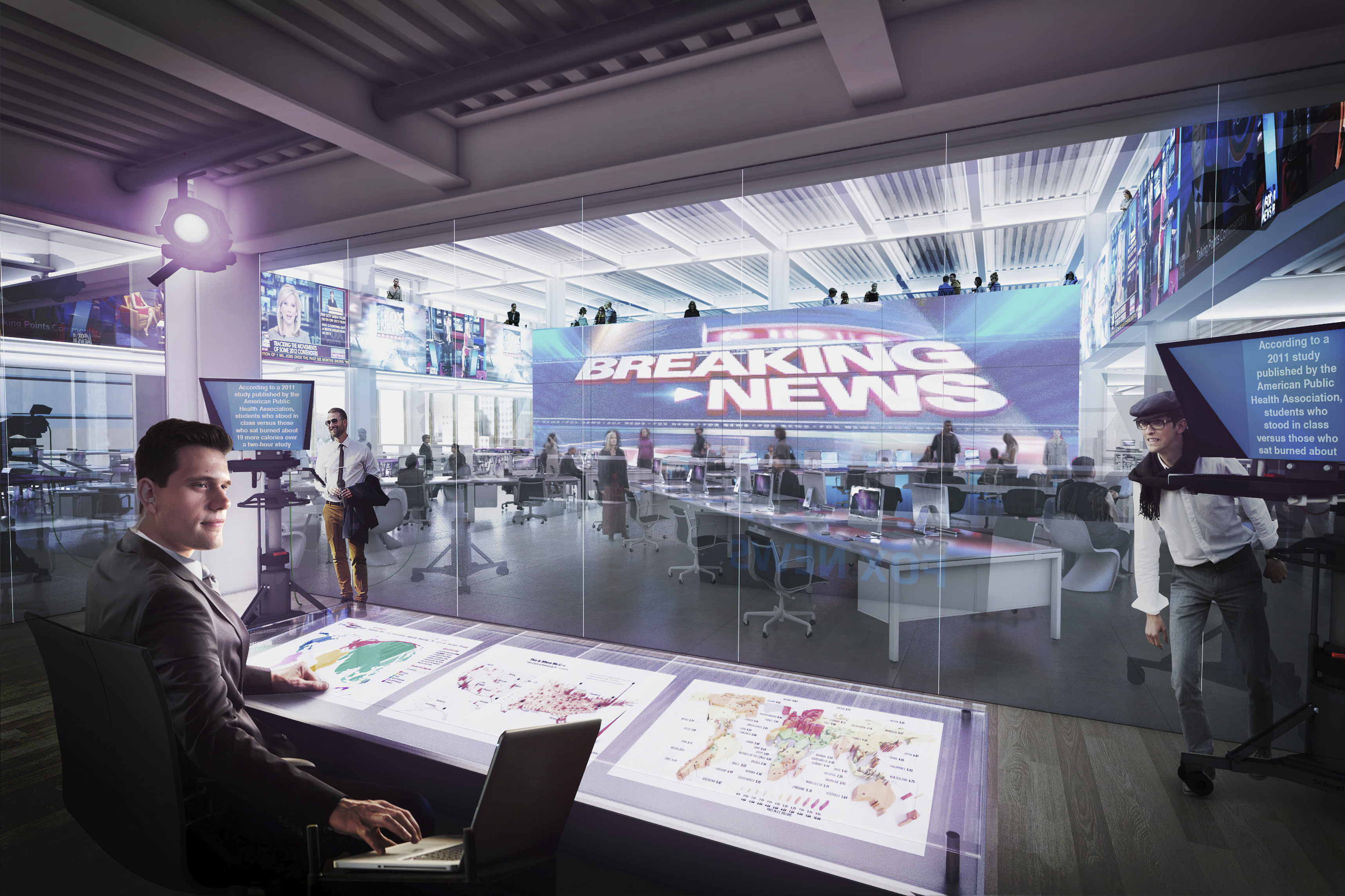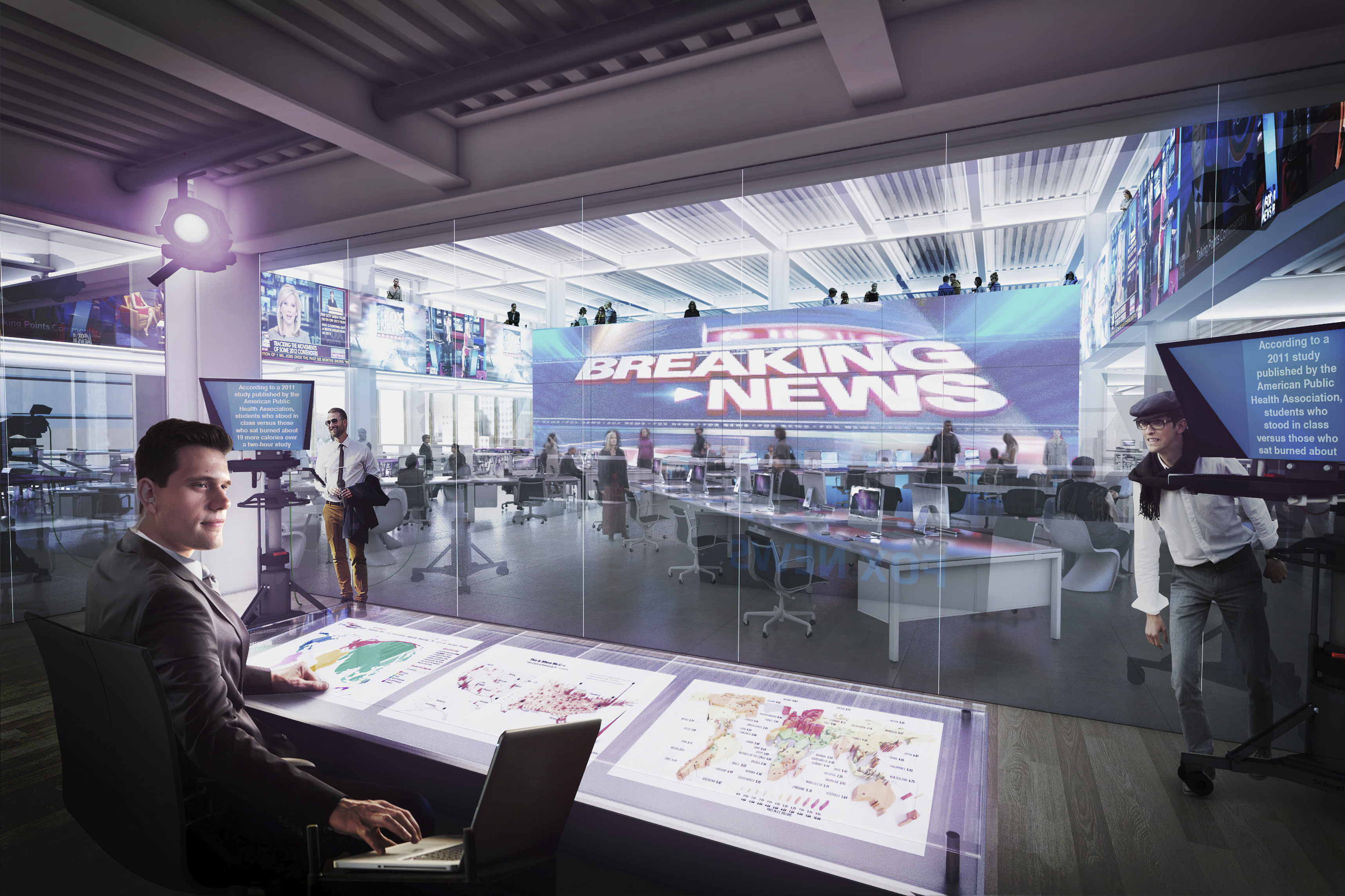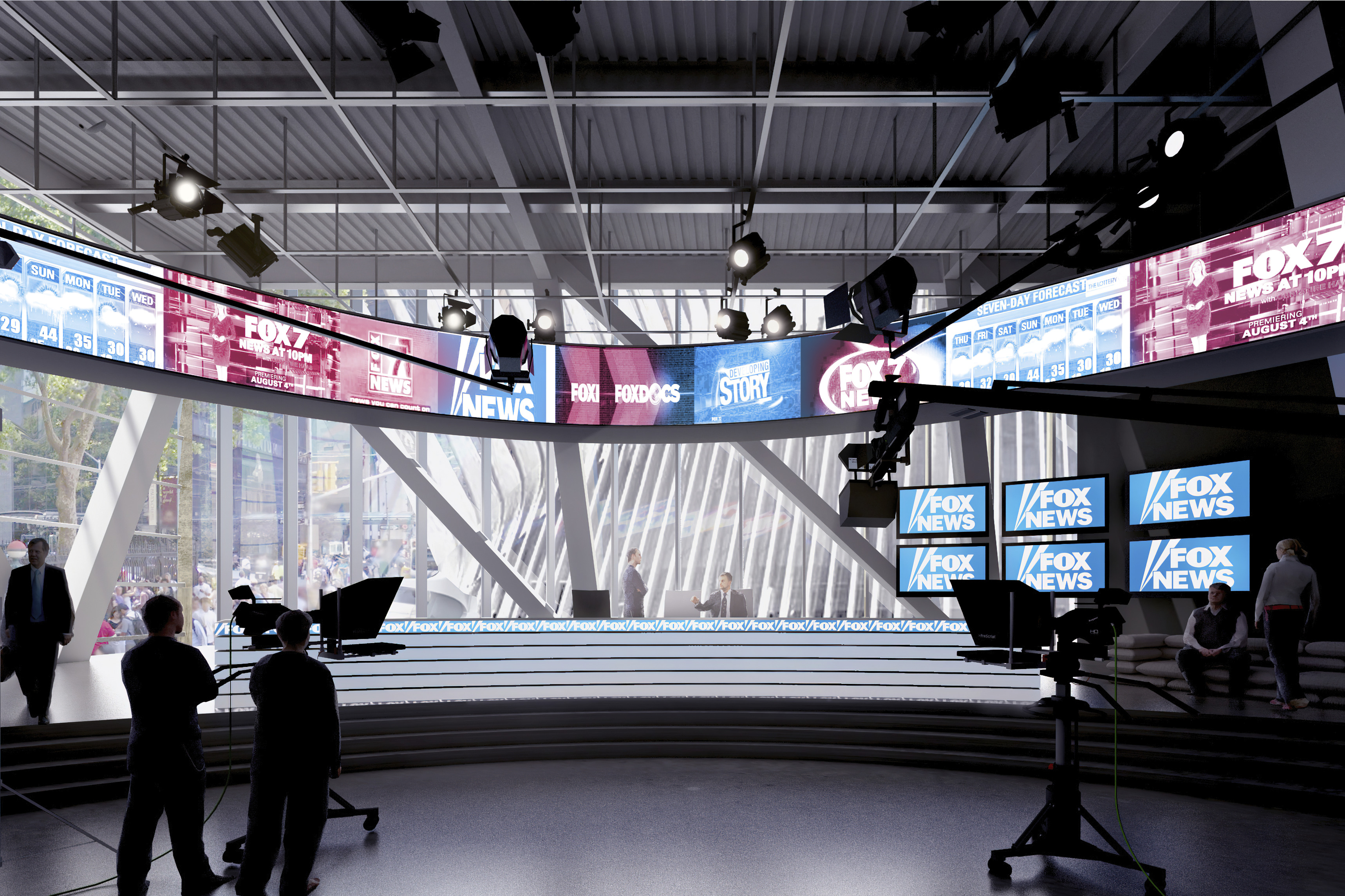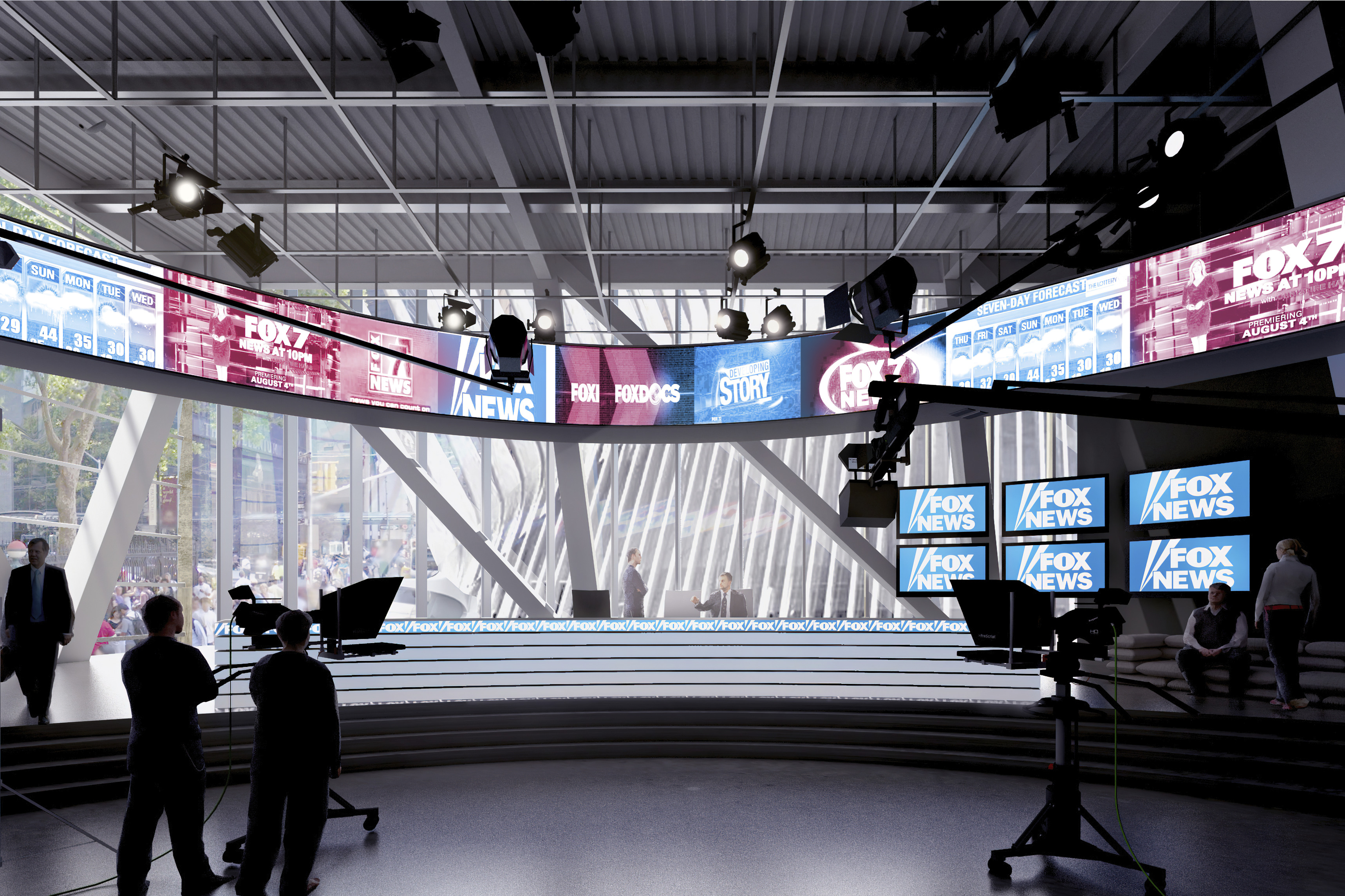 The base of the building utilizes the maximum area of the site, housing TV studios and 100,000 sq ft of retail space over multiple levels. The lobby is connected to the WTC transit hub, providing direct access to 11 subway lines and PATH trains. A public plaza at the foot of the building and access to shopping and restaurants in the adjacent transportation hub and concourses will ensure life and activity in and around the new World Trade Center.
The new building would provide the physical environment for collaboration and idea sharing through the internal mix of open workplaces, amenities and informal meeting spaces. Large stairwells between the floors form cascading double-height communal spaces throughout the headquarters. These continuous spaces enhance connectivity between different departments and amenities, which may include basketball courts, a running track, a cafeteria and screening rooms. The amenity floors are located so they can feed directly out onto the roof top parks.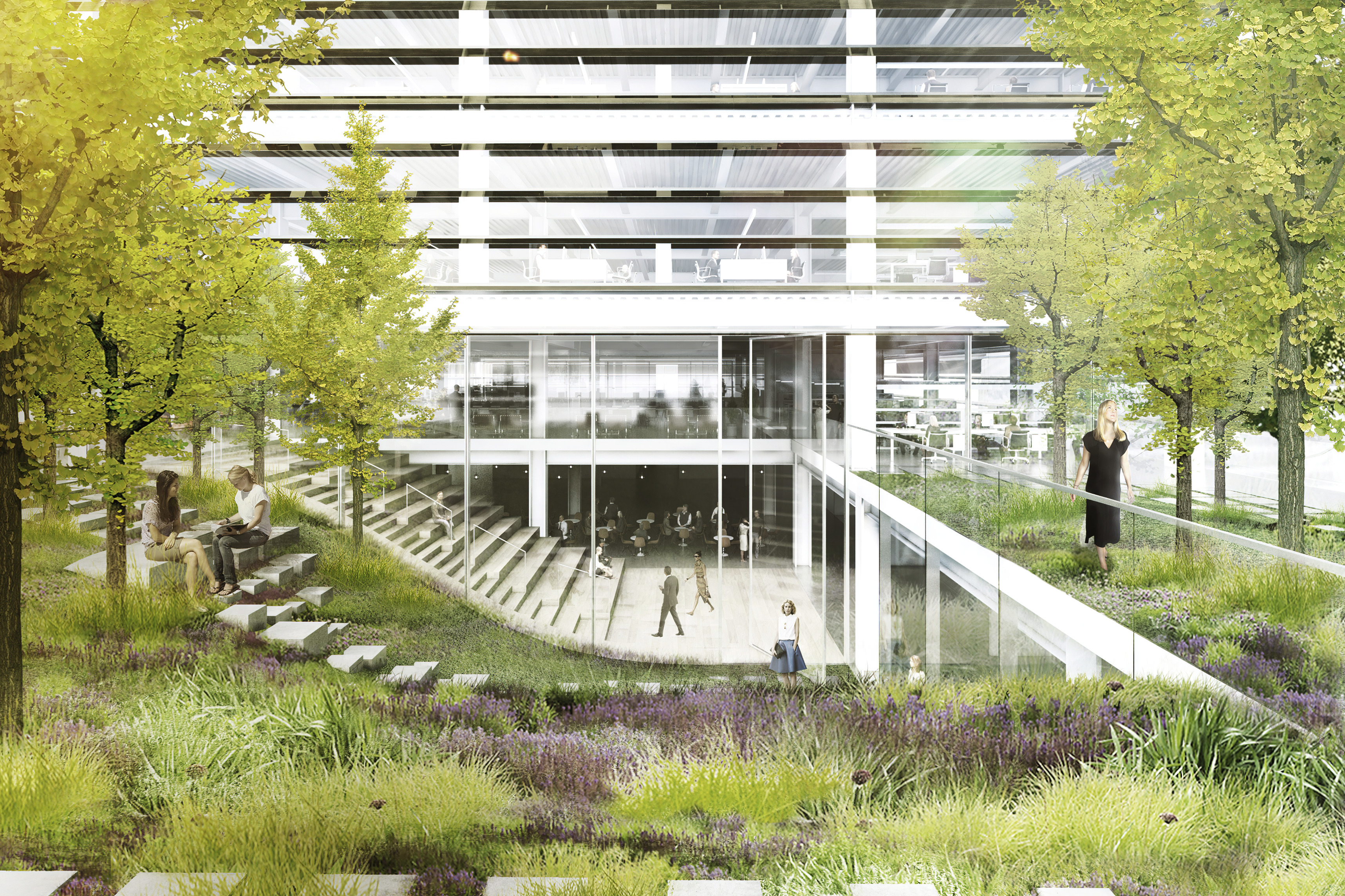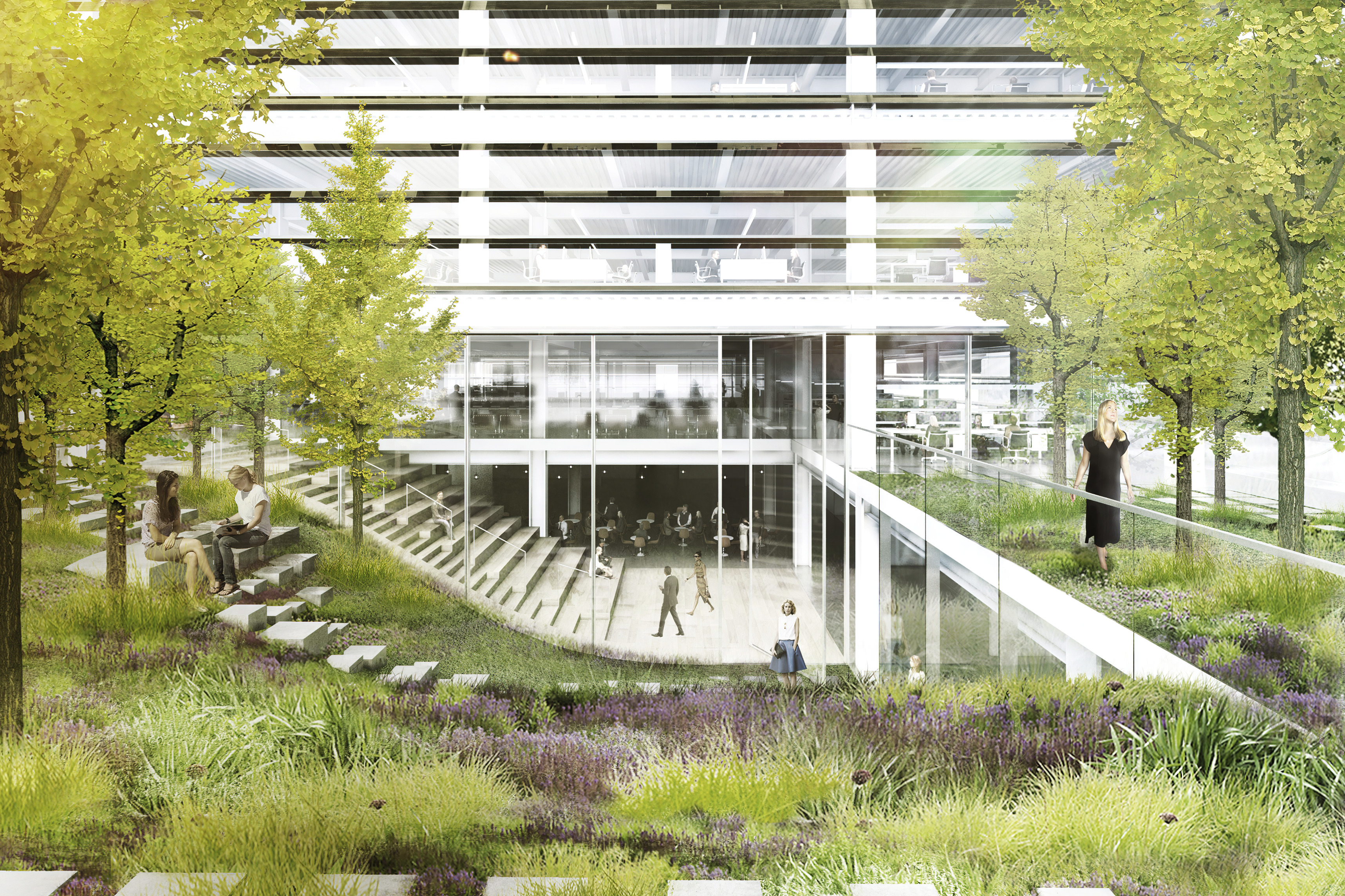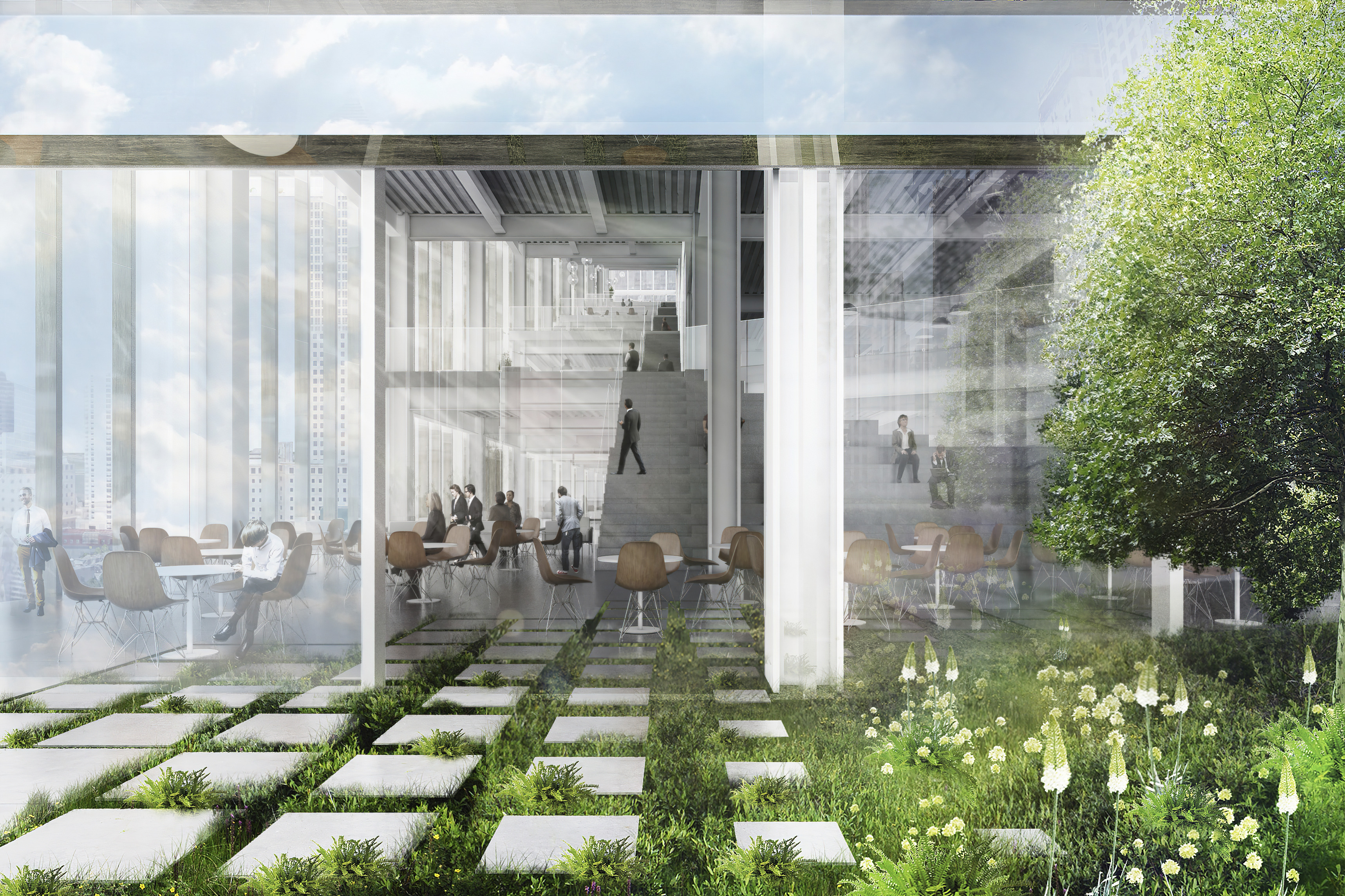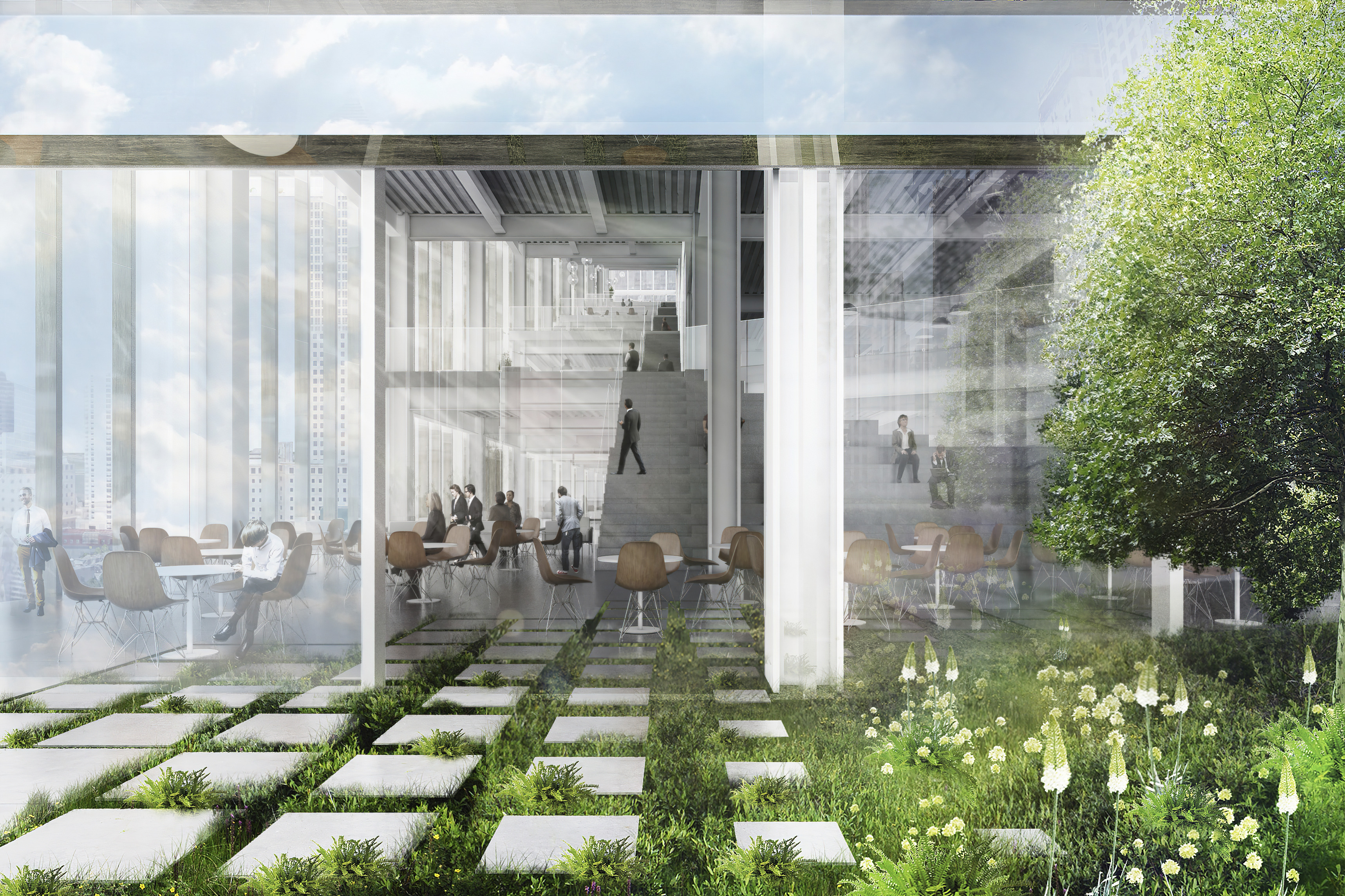 "The skyscraper is a New York native that came to populate the Financial District downtown. As an architectural typology, it has seen little innovation since its inception at the beginning of the 20th century. With the transformation of the Financial District into a vibrant neighborhood for creative companies in media, technology and design, the classic corporate tower tailored for finance needed rethinking. By conceiving the tower as a vertical village of individual city blocks of different proportions and floor plates, with terraces and roof gardens, the traditional vertical silhouette of the modern skyscraper is animated to become a lively new character on the Manhattan skyline."
Bjarke Ingels Kai-Uwe Bergmann Thomas Christoffersen Daniel Sundlin Martin Voelkle Jakob Lange Dominyka Voelkle Florencia Kratsman Haochen Yu Jan Leenknegt Julie Kaufman Linus Saavedra Maki Matsubayashi Otilia Pupezeanu Sebastian Claussnitzer Seo Young Shin Shane Dalke Terrence Chew Thomas McMurtrie Yu Inamoto Zhonghan Huang Lawrence-Olivier Mahadoo Deb Campbell Francesca Portesine Ji-Young Yoon Adam Sheraden Adrian Subagyo Alessandra Peracin Alice Cladet Amina Blacksher Armen Menendian Athena Morella Benson Chien Cadence Merrie Bayley Carolien Schippers Catherine Papst Christi Farrell Christopher White Daisy Zhong David Brown David Zhai Di Wang Douglass Alligood Doug Stechschulte Emily Watts Eva Maria Mikkelsen Hector Garcia-Castrillo Molly Hsiao Rou Huang Iben Falconer Jennifer Kimura Jennifer Wood Jessica Jiang John Hilmes John Kim Jonathan Rieke Kristoffer Negendahl Lauren Connell Falla Lisbet Fritze Trentemøller Lucio Santos Maria Sole Bravo Manon Otto Margaret Kim Maureen Rahman Mustafa Khan Nicholas Coffee Pablo Costa Fraiz Paul Manhertz Sabri Farouki Simon Lee Supakrit Wongviboonsin Tara Hagan Thomas Yaher Tiago Sá Tore Banke Ute Rinnebach Vivien Cheng Yaziel Juarbe Ali Chen Dong-Joo Kim Iva Ulam Lucas Hong Rune Hansen Tammy Teng
AWARDS

AIANY Design Awards Honor for Future Project, 2016
COLLABORATORS

Acoustic Distinctions
Adamson Associates
AMAPC
CCI
D-BOX
Gardiner & Theobald
Gensler
Jaros
Baum & Bolles
Radii Inc.
Squint Opera
Turner Construction
Van Deusen & Associates
VIDARIS
WSP
BIG Ideas